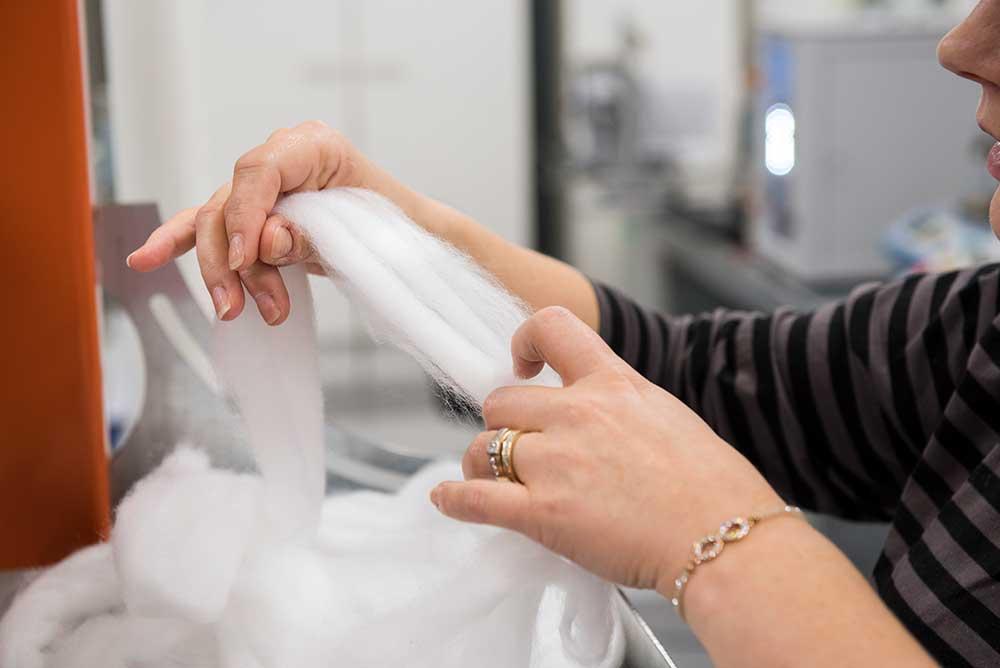 Spinnova is a young Finnish company that is moving fast to break the bottlenecks of the forest and textile industries. With a bold attitude and powerful partnerships as the driving force, the company is dedicated to tackling challenges within the textile industry to bring about a better future.
Spinnova, a spin-off of VTT, was co-founded in 2015 by Janne Poranen, the former leader of VTT's biomaterial research, and Juha Salmela, former VTT team leader. During his worldwide travels to promote the innovations of the Finnish forest industry, Poranen discovered a bottleneck: innovations weren't finding their way to the market and transforming into actual business. Poranen and Salmela decided to join forces for a meaningful cause, and Spinnova was born.
– We want to do our share in challenging the status quo. Our aim is to find better technical solutions for the textile industry's material challenges, says Poranen, now the CEO of Spinnova.
Spinnova's aim is to find a new fibre-based textile material, possibly one refined from cellulose, and bring it to the consumer masses. At the moment, the project is in its pre-industrial phase. The concept of the pilot phase has been confirmed, and the construction of an industrial pilot facility in Jyväskylä is underway.
– Next year, we want to produce larger amounts of the fibre to suit the needs of, for example, Marimekko. That will allow us to conduct actual customer and consumer testing, and figure out what kind of products we'll be able to eventually roll out to the market. The final business model is still finding its form.
Cooperation is the key
Poranen finds the collaboration with Marimekko beneficial in many ways. Both companies bring unique skills to the table for their joint journey towards more sustainable future solutions.
– Marimekko is a long-standing expert in the textile industry, and one of the best-known Finnish brands. They have an impeccable understanding of what the end product should be like, and what qualities the fibre must have. Our cooperation has also attracted a lot of positive attention and brought us new contacts. At the moment, our priority is to use both companies' product development expertise for the best possible outcome.
Spinnova has participated in building the New Fibres ecosystem from very early on. Poranen also gives credit to other public stakeholders that have helped propel Spinnova forward, such as Business Finland, universities and research facilities. In the future, Poranen hopes that Spinnova can serve as an inspiration to small companies. The company's one-of-a-kind technology attracts a lot of international interest, but Poranen sees no problem in sharing the success with other companies.
– Several technologies based on dissolving processes are currently being developed in Finland and the Nordics. I don't, however, regard them as competition. Instead, other technologies utilizing wood-based raw materials help dispel the idea that wood is only fit for cellulose and paper.
The new fibre shows promising qualities
With Spinnova's technology, textile fibre can be extracted from cellulose mechanically without dissolving processes, and with only a fraction of the amount of water required by cotton. In principle, the material is also 100% recyclable. The raw materials don't have to be wood-based –waste streams, for example, can be used too.
Spinnova and Marimekko are constantly developing the properties of the fibre, but it's too early to say how it will compare with other materials, such as cotton and viscose.
– We've been developing the basic mechanical qualities, such as durability and elasticity, and we've got relatively far already. A wood-based fibre also has a really pleasant feel, which differs a great deal from artificial fibres. The fibre insulates against heat and cold well, and is likely to be non-allergenic. We're also fascinated by its moisture-wicking properties.
When it comes to innovation, the current pilot is just a beginning. Poranen envisions Spinnova will stay at the leading edge of development.
– Hopefully 10 years from now, Spinnova's technology will be used all around the world. That would allow us to maintain our growth, and constantly develop our technology alongside production.